J. Larry Tyler
FACHE, FHFMA, CMPE Chairman and CEO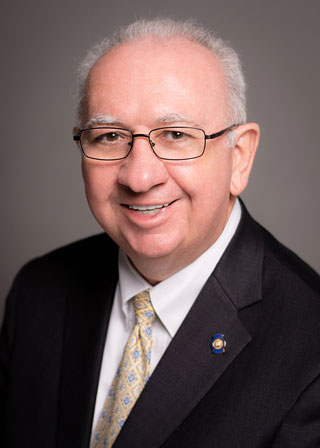 J. Larry Tyler, FACHE, FHFMA, CMPE
J. Larry Tyler is Chairman and CEO of Practical Governance Group, a team of healthcare consultants and academicians passionate about good governance and the education of healthcare boards. The group's activities include conducting board presentations, board retreats, board self-evaluations, and board and CEO succession planning; facilitating; and writing comprehensively on governance issues. Errol Biggs, PhD, FACHE, Vice Chair at Practical Governance Group and head of the Healthcare Administration program at the University of Colorado Denver, and Larry co-authored Practical Governance. Published by Health Administration Press, it offers useful advice on topics that matter most to healthcare boards – from structure to strategic planning.
Larry has spoken on governance for numerous hospital associations and health systems. Since 1983, he has served as faculty at the American College of Healthcare Executives' Congress on Healthcare Leadership. Among his seminars are "CEO Governance Roundtable," "Governance Forum: Taking the leap toward exceptional and courageous board governance and leadership" and the governance portion of ACHE's immersion course. Larry is an adjunct professor in health administration of the University of Colorado Denver and the University of Alabama at Birmingham.
Originally from Washington, a small, historic town in eastern Georgia, Larry began his professional career on the audit staff of Price Waterhouse & Co. and became a Certified Public Accountant in 1975. Three years later, he founded Tyler & Company, which conducts executive-level searches for the healthcare industry.
In 2008, Larry was named by BusinessWeek as "one of the top 100 most influential headhunters in the world." He shares his knowledge and nearly 40 years of experience as a healthcare executive recruitment consultant in the pages of Tyler's Guide: The Healthcare Executive's Job Search (fourth edition), which takes readers from beginning to end of the job-change process. Throughout his career, Larry has had the pleasure of partnering with healthcare organizations and leading search assignments resulting in thousands of successfully placed healthcare executives. Of these, more than 185 were health system or hospital CEOs across the United States. Today, Larry is Chairman Emeritus of Tyler & Company, which in 2013, became part of Jackson Healthcare.
Larry is a Fellow of the American Association of Healthcare Consultants, where he served as Chair of the Board from 1994 to 1995. In 1989, he was named recipient of the association's Chet Minkalis Service Award. In 1995, he was cited by his peers as one of the top search consultants in the United States in the book, The New Career Makers, by John Sibbald.
Larry is a Fellow of the American College of Healthcare Executives (ACHE), where he served as a Chair of the Career Development Committee from 1994 to 1996 and two years on the Editorial Board of ache.org. Larry has served consecutively since 1983 as faculty at ACHE's annual Congress on Healthcare Leadership. In 1997, he received ACHE's Regent Award for Georgia. In 2010, he received ACHE's President's Award for his "tireless contribution to ACHE's career advancement efforts." Larry received in 2012 ACHE's Exemplary Service Award, the association's highest service award, for his commitment of volunteer service to the healthcare management profession. And in 2014, he was elected to serve for three years on the Council of Regents, ACHE's legislative body.
Larry also is a Fellow of the Healthcare Financial Management Association (HFMA), where he served on the Editorial Advisory Board of its journal, Healthcare Financial Management. He is a recipient of three of HFMA's awards for personal participation (Follmer, Reeves and Muncie). He is a Certified Medical Practice Executive of the American College of Medical Practice Executives, and he is a member of the American Institute of CPAs and the Georgia Society of CPAs.
Larry earned a Bachelor of Science in Industrial Management from Georgia Institute of Technology in Atlanta and a Master of Professional Accountancy from Georgia State University in Atlanta.
Governance-Related Lectures at ACHE's Congress on Healthcare Leadership
Lessons from Practical Governance (2001)
360° Feedback and Competencies for Healthcare Executives (2003)
Board Self-Evaluation (2002 and 2003)
Succession Planning in US Hospitals (2004)
CEO Governance Roundtable (CEOs only) (2005 to present)
Governance Forum: Taking the leap toward exceptional and courageous board governance and leadership  (2016 to present)
Board Retreats and Self-Evaluation
Baptist Health System of East Tennessee, Knoxville, TN
Benefis Healthcare, Great Falls, MT
Blanchard Valley Health System, Finley, OH
Campbell Health System, Weatherford, TX
Cape Fear Valley Health System, Fayetteville, NC (2008)
Danville Regional Medical Center, Danville, VA
Dubuis Health System, Houston, TX
East Jefferson Medical Center, Metairie, LA
Faith Regional Health Services, Norfolk, NE
Haywood Regional Medical Center, Clyde, NC (2008)
Kaweah Delta Hospital District, Visalia, CA
Maury Regional Medical Center, Maury, KY
Richland Memorial Medical Center, Columbia, SC
Rockdale Health System, Conyers, GA
SanteFe Healthcare, Gainesville, FL (2006, 2007 and 2008)
–   AvMed Health Plan; The Haven Hospice; North Florida Retirement Village
Southern Crescent Hospital for Specialty Care, Riverdale, GA (2011)
Speeches and Presentations on Governance
Georgia Hospital Association
Healthcare Financial Management Association (Georgia chapter)
Institute for Health Policy, Pittsburgh
Ohio Hospital Association
Tennessee Hospital Association
ACHE Board of Governors Exam Tutorial (2004 to present)
University of Alabama at Birmingham 28th National Symposium (2008), "The Three-Legged Stool: Building a Better Board by Bracing the Governance Leg"
Texas Hospital Association: "Advanced Board Self-Evaluation" (2008); "CEO and Board Succession Planning" (2009);  "Advancing the Board" (2010); "Directing Meaningful CEO Performance Appraisals" (2012)
Nebraska Hospital Association: "Governance" (ACHE course) (2014)
Crisp Regional Hospital, Cordele, GA: "Being a Better Governing Board" (2014)
Indiana National Guard: "Governing Principles" (2013)
Shenandoah Medical Center, Shenandoah, IA: "Advancing the Board" (2016)
St. Peter's Hospital, Helena, MT: "Advancing the Board" (2016)
University Medical Center, Lubbock, TX – "Advancing the board" (2018)
IHA, Ann Arbor, MI – "Advancing the board" (2018)
Other Governance-related Activities and Positions
ACHE/VHA closed-circuit TV broadcast, "Lessons From Practical Governance"
ACHE Immersion Course for ACHE Exam, Governance speaker (2006 to present)
ACHE Exam/On-Line Prep Course (Governance, narrative and slides) (2004 to present)
Video – CEO Performance Appraisal, Governance Institute
Webinars

Texas Hospital Association, "Board Self-Evaluation" (2009) and "Board Succession Planning" (2010)
Georgia Hospital Association, "Advancing the Board" (2016) and "Board Self-Evaluation (2016)

Healthcare Financial Management Association (Georgia chapter board): Strategic plan facilitation (2015 and 2016)
Georgia State University Master of Science in Health Administration program – "Governance 101" (2012 to present)
University of Alabama at Birmingham Executive MBA program – "Governance 101" (2005, 2007, 2009, 2011 to present)
University of Alabama at Birmingham Health System Leadership – "Governance 101" (2012 to present)
University of Georgia Master of Public Health program – "Governance 101" (2013)
The Board Chair's Society – founder of this organization dedicated to training board chairs and CEOs
Former Chairman, American Association of Healthcare Consultants
Senior Advisor, Georgia Association of Healthcare Executives (2018 to present)
Board Member, Bethesda Lutheran Communities (2018 to present)
Board Member, Georgia Association of Healthcare Executives (2015 to 2018)
Board Member, Hewanorra Health Volunteers (2009 to 2015)
Board Member, Signium International (2008 to 2013)
Member, National Association of Corporate Directors (2004 to present)
Articles
"Building a Better Board" (co-authored with Biggs), Frontiers (Summer 2015)
"CEO Performance Appraisal" (co-authored with Biggs), Trustee Magazine (May 2001)
"Board Selection and Composition" (co-authored with Biggs) Healthcare Executive magazine (May 2002)
"Conflict of Interest: Strategies for Remaining 'purer than Caesar's wife'" (co-authored with Biggs), Trustee (March 2004)
"What kind of CEO Will Your Hospital Need Next? A Model for Succession Planning" (co-authored with Garman) Trustee (October 2004)
"Why Succession Planning May not be on Your Board's Agenda – But Should Be" (co-authored with Garman) Boardroom Press (April 2005)
"Succession Planning at the Top, Current Effective Strategies" (co-authored with Garman), Chief Executive Officer (Winter 2005). Reprinted in Healthcare Executive (May 2006)
"Getting a Grip on Governance" (co-authored with Biggs), Frontiers of Health Service Management (November 2005)
"CEO Performance Appraisal" (white paper), The Governance 100
"Case Study: Board Chair Succession Planning" (co-authored with Harris W. Brooks), Texas Healthcare Trustees' Trustee Bulletin (Spring 2011)
Succession Planning
Blue Ridge HealthCare, Morganton, NC
Carillion Health System, Roanoke, VA
Murray Regional Medical Center, Murray, KY
Palmetto Health Alliance, Columbia, SC
Ellis Medicine, Schenectady, NY
Quoted
"Wanted: A Few Good Trustees" by Michele Belcher, Trustee (March 2002)
"Governance 101" by Sheri Mycek, Trustee (January 2004)